October 5, 2021
Do you know what your rights are if you have a neighbor who is using your yard to dump brush and lawn clippings?
Some people do their own landscaping because they enjoy being outside and contributing to the beauty and value of their property, at little expense. Others hire landscaping companies and professional lawn care providers who maintain the condition of their lawn and foliage. Problems arise, however, when the brush and debris from one property are left on a neighboring one.  Did you know that a lawyer can help you take legal action to keep your property protected? Good fences make good neighbors, but sometimes even a fence can't prevent conflict.
What Is Illegal Dumping in New Jersey?
Dumping laws can be municipal, state, or federal.  In recent years, the federal government, with the encouragement of the EPA (Environmental Protection Agency), has created bills that were voted into law such as the Resource Conservation and Recovery Act.  These federal laws are multifarious and designed to protect the environment on a much larger scale, applying to large amounts of hazardous waste.
Illegal dumping on a much smaller scale involves dumping waste on public or private property not intended for such use, dumping waste into sewers, rivers, lakes, or streams without a permit, and receiving waste from others to be dumped on your property without being licensed to receive it.
What is the Difference Between Littering and Dumping?
Littering refers to inappropriately throwing waste such as bottles, papers, cans, plastic cups, or containers and typical trash in small quantities on the side of the road or sidewalk. Dumping, on the other hand, is the abandonment of larger items such as several large bags of trash, old appliances, or broken furniture.  The kind of waste is also important.  Toxic chemicals or dangerous items such as motor vehicle batteries, hospital or laboratory waste are considered dumping even when the amounts are somewhat small.
What are the Fines and Penalties?
For dumping, fines of up to $50,000 and even jail sentences of up to 90 days can be handed down, but typically if convicted, a person could expect to receive a fine of around $3,000 and several weeks of community service picking up trash.  Littering is a veritable slap on the wrist with the highest fine being $500 and a possibility of community service for 20 to 40 hours while a second offense within the following 6 months could result in a fine of up to $1,000 and 40 to 80 hours of community service as well as a possible 60-day jail sentence.
What Can I Do if Neighbors are Dumping Yard Waste on my Property?
Of course, you don't want to make a fuss, but it is in fact your property and your neighbor must find another way to dispose of the brush and lawn clippings in another fashion.  The first step is to make a visit to your neighbor and express your concern regarding the problem.  If your neighbor apologizes and promises it won't happen again, the matter could be closed. If your neighbor continues to dump their refuse onto your property, it may be time to get the police involved.  After observing the problem, they will in all likelihood go to talk to your neighbor. You may be able to pursue a case in Municipal Court.
But what if your neighbor denies all wrongdoing? Your best bet is to place security cameras around your property and wait to see if the behavior continues. You should post visible signs that there are cameras. Also, your cameras cannot be pointed to your neighbor's property.  They should be focused on yours.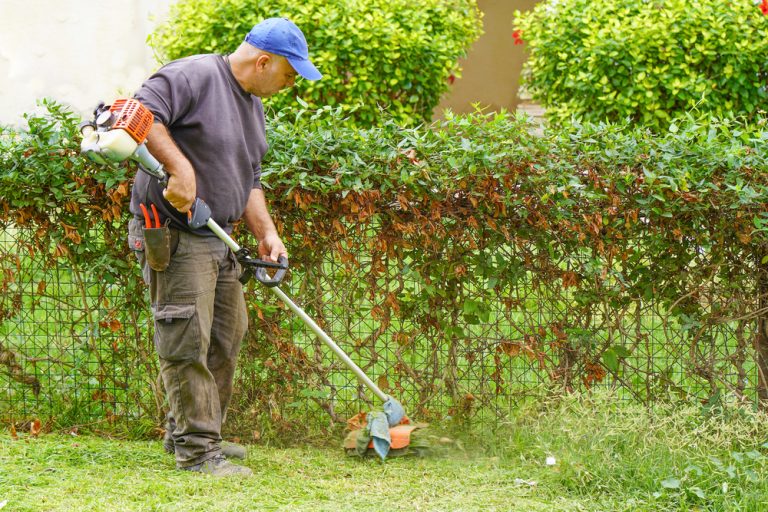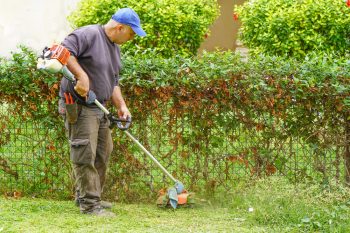 If you are still having trouble, contact the HOA board (if one exists) and explain the situation.  If nothing else can be done, you should consider a civil suit to stop your neighbor once and for all.
This last suggestion is more of an expense and inconvenience for you but consider erecting a fence tall enough to protect your yard from your neighbor's dumping habit.  If you have proof that your neighbor is throwing the brush past your property line, in your civil suit, you can request that your neighbor pays for the fence because of their repeated lack of respect for your property.  Be sure to have the property line surveyed before building the fence.  It would be a disaster to have to move it due to a miscalculation on your part.  Again, you can pass that cost onto your neighbor in your lawsuit against them.
There is very little worse than a troublesome neighbor. We work hard to keep our house and property tidy and when someone comes and spoils it, the situation sours.  Perhaps many would say that it is a few sticks and why to get bothered by it, but brush, lawn clippings, and loose sticks make comfortable housing establishments for snakes, rodents, and rats, among other wildlife. Not to mention the unsightly mess in your backyard.
Do you have an irresponsible neighbor who is dumping their brush and lawn clippings onto your property in NJ? Contact your West Long Branch Attorneys.
At Chamlin, Uliano & Walsh we are prepared to listen to you and create a plan of action that will allow you to feel comfortable on your property again.  We have years of experience and know-how to approach your case in a way that is effective and thorough.  Our powerful negotiation skills are what you need to have your property free of debris. If you live near Oceanport, Monmouth Beach, Deal, Shrewsbury, Allenhurst, or any other town in Monmouth County or Ocean County, give us a call to plan your steps and eventual actions.
If you want to put an end to heated discussions that result in neither peace nor progress, and you think it's time to get help and end this nuisance once and for all,  call us at (732) 440-3950 or contact us online. We are on your side.
---