Monmouth County NJ Workers' Compensation Attorneys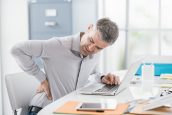 If you have been injured at work, you face many challenges, including pain, medical treatment, medical costs, the absence of income, and many others. Whether your job is relatively low risk or highly dangerous, whether your injury is occupational or traumatic in nature, living with this situation can be confusing, stressful, and upsetting to you and your family. If you choose the right attorney, he or she can help you navigate the complex processes required by New Jersey workers' compensation law to obtain the maximum monetary assistance and other crucial benefits that you are entitled to, including wage loss replacement and medical benefits.
Although New Jersey state law allows your employer's insurance company to control your medical treatment, a trained attorney will assist you in achieving the medical treatment that you require. If you have a partial or total permanent disability as a result of an injury you sustained at work, a cash settlement may be possible. In addition, in situations where you have sustained a permanent disability, you may also be entitled to Social Security benefits or pension benefits. Finally, our staff of workers' compensation attorneys will determine whether you may be entitled to further monetary compensation if your work injury was caused by the negligence of someone other than your employer.
Ocean County NJ Workers' Compensation Lawyers
Here are some extremely basic principles of workers' compensation law, as well as just a few examples of cases we handle:
Income benefits
Permanent disability
Light duty work
Total disability
Aggravation or exacerbation claims
Third-party claims
Police officer/Correction officer
Social Security Disability
Medical benefits
Cash settlements
Workplace injuries
Repetitive stress injury
Pulmonary and respiratory injuries
Construction workers and laborers
Firefighters/firemen
Second Injury Fund
Many factors determine what you may be able to do to get the help you need, and some deadlines might apply. It is crucial that you choose the right attorney, right away. Kenneth W. Chamlin, Esq., who leads this department, is a member of the Monmouth Bar Association's Workers' Compensation Committee and has been its past chairman for several years and trustee representative to the Bar Association. He and his team of attorneys and assistants have years of experience in this area of the law.
Contact a New Jersey Workers' Compensation Law Firm
Please contact us online or call 732-440-3950 immediately to make an appointment with one of our worker's compensation attorneys trained and experienced in this area of the law. He or she will work tirelessly to meet your needs in a professional and confidential manner.