Monmouth County NJ Professional Negligence Attorneys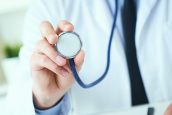 Professionals have a responsibility to perform up to their licenses, certifications and training to provide the services we rely upon them to deliver. Failure to do so can severely harm the client's interests, finances or even physical health. If you have been hurt or suffered loss due to professional negligence, we can help.
Ocean County NJ Medical Malpractice Lawyers
At Chamlin, Uliano & Walsh, our attorneys are equipped to take on these complex cases and advocate to protect your interests. It is important that you have representation that understands the licensing and professional standards that are at play. Additional legal issues can come into play, and your attorney needs to know how to integrate these additional concerns into the current case. With a broad range of specialties within our firm, we are confident that we can successfully handle your professional negligence case.
We represent clients facing a broad range of professional issues, including:
Architect malpractice: Any errors in the drafting of plans for your house or property can result in profound financial loss, as well as time-consuming setbacks.
Engineers: This profession is relied upon for many pieces in our day-to-day lives. Errors can result in catastrophic damage and enormous loss, including potential loss of life.
Medical malpractice: Doctors, hospitals and nurses must provide the highest level of care and diagnostics to ensure that patients are not further hurt or do not suffer greater illness.
Nursing home malpractice: We trust nursing homes and care facilities to provide our elderly loved ones with dignity and care. Failure to do so can result in legal ramifications.
Other forms of professional negligence include surveyor malpractice, accounting malpractice and any other licensed professional service.
Contact our New Jersey Medical Malpractice Law Firm
To learn more about how a Monmouth County professional negligence lawyer can advocate to protect your interests, please contact our West Long Branch, New Jersey, law firm today at 732-440-3950 or toll free at 888-328-9131.