Drunk Driver Injury Attorneys Monmouth County, NJ
Serving Clients Across Red Bank, Freehold, Wall, West Long Branch, and Monmouth County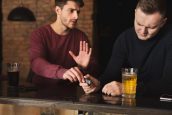 New Jersey lawmakers understand the dangers that drinking and driving can pose to not only the driver but other drivers and pedestrians as well. With this in mind, they have made the legal limit for Blood Alcohol Content when driving a car .08%, and .04% for anyone operating a truck with a Commercial Driver's License.
If a person negligently disobeys these laws, drives drunk, and causes injury to another party, the injured party may be able to recover compensation for their damages including their medical expenses, lost income, and physical and emotional pain and suffering through a drunk driving personal injury lawsuit.
At The Law Office of Chamlin, Uliano & Walsh, our attorneys have extensive experience helping clients across Red Bank, Freehold, Wall, West Long Branch, and the greater Monmouth County area to succesfully recover compensation in personal injury lawsuits of all kinds, including lawsuits against intoxicated drivers. If you have been injured by a drunk driver, contact our firm today to discuss your options for compensation in a free and confidential consultation.
A Step-by-Step Guide to Handling Car Accidents
What Should I Do if I was Injured
in a Car Accident in New Jersey?
Can I Sue an Intoxicated Driver for my Injuries in Monmouth County, NJ?
New Jersey operates under what is known as "no-fault" car insurance laws. These laws can be difficult to understand, but the basic principle is that injured drivers file their compensation claims with their own insurance provider, rather than the insurance provider of the driver who caused the accident. Only if and when your own insurance policy cannot cover all of your medical expenses or lost income will you then file a claim with the insurance company of the drunk driver.
Additionally, depending on your own insurance policy, you will have either a "limited right to sue", or an "unlimited right to sue". A limited right to sue policy will only allow you to seek pain and suffering damages in the event of serious injury such as a loss of limb, serious disfigurement or scarring, a permanent injury, loss of a fetus, a displaced fracture, or wrongful death. On the other hand, if you have an unlimited right to sue policy, you may seek pain and suffering damages for any injuries or suffering you have experienced as a result of your accident with a drunk driver.
For a better understanding of your own insurance policy and how you may recover compensation for your injuries at the hands of an intoxicated driver, it is highly recommended that you speak with an experienced Monmouth County personal injury attorney. Your attorney will be able to review the specifics of your policy, advise you on exactly what types of compensation you may be able to secure, and how to best go about recovering that compensation.
Can I Sue the Bar that Served the Drunk Driver? Red Bank Drunk Driving Injury Attorneys
Under the New Jersey dram shop law (also known as the social host liability law), individuals who are injured by a drunk driver may have the option to sue an alcohol provider for damages sustained. So while recovering compensation from the drunk driver's insurance provider, or your own provider, has its limitations and difficulties, you may wish to speak with your Red Bank drunk driving injury attorney about your options regarding a dram shop injury claim.
The party injured by a drunk driver may seek compensation from a vendor, including a bar, restaurant, casino, resort, or any other establishment which serves alcohol if the drunk driver who caused the accident was "visibly intoxicated when served", or if the vendor knew or reasonably should have known that the person being served was under the legal drinking age of 21.
Furthermore, compensation may also be sought against social hosts who negligently served alcohol to the drunk driver if:
The drunk driver was visibly intoxicated in the presence of the social host
The alcoholic beverages were served "under circumstances manifesting reckless disregard of the consequences", and
Those circumstances created an "unreasonable risk" of harm to property or life
It is important to note, however, that the dram shop social host liability law only allows for the parties injured by the drunk driver to seek compensation, the drunk driver themselves may not seek compensation for any injuries they sustain via the dram shop law.
Contact Our Freehold Drunk Driving Accident and Dram Shop Attorneys Today
At The Law Office of Chamlin, Uliano & Walsh, our attorneys have extensive experience helping clients across Freehold, Red Bank, Wall, West Long Branch, and the greater Monmouth County area to recover compensation in cases of all kinds, including drunk driving injury lawsuits and dram shop liability suits.
Our personal injury team is lead by an attorney who is both a Certified Civil Trial Attorney as well as a Certified Criminal Trial Attorney. Charles J. Uliano is one of only 43 lawyers in the entire state of New Jersey to hold this dual Certification, and it speaks to his dedication to not only the law, but to his desire to provide the most knowledgeable, effective, and dedicated legal service possible to all of his clients.
To speak with our firm today in a free and confidential consultation regarding your drunk driving accident injuries and potential avenues for recovering compensation, please contact us online, or through our West Long Branch office today at (732) 440-3950.