Rideshare Accident Injury Attorneys Monmouth County, NJ
Serving Clients Across Wall, Freehold, West Long Branch, Eatontown, Red Bank, Asbury Park, and Monmouth County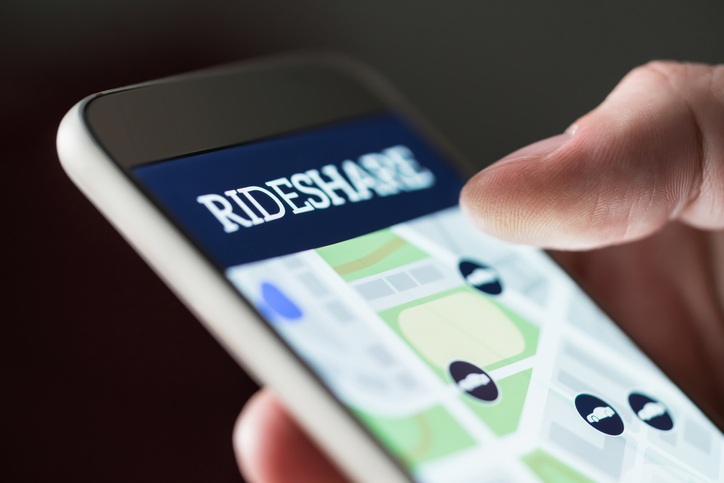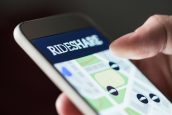 Rideshare services have revolutionized the transportation industry and have changed the way many of us think of taxi services. Recently emerging companies such as Uber and Lyft offer a cheap and convenient way for us to get a ride to the airport, home from the bar, or really anywhere. It has also been estimated that Uber provides supplemental or full-time income to over one (1) million contracted drivers in the U.S. alone.
However, with such a rapidly growing industry, legislation is struggling to keep up. If you or a loved one has been involved in a rideshare accident, our legal team is here to help you understand your rights. If your accident led to an injury, you may be entitled to financial compensation through a personal injury claim.
The personal injury attorneys of Chamlin, Uliano & Walsh have extensive experience assisting clients who have been injured in car accidents, motorcycle accidents, truck accidents, bicycle accidents and more. As rideshare has become part of everyday life for many people, we have also taken on rideshare accident cases in our local New Jersey communities including West Long Branch, Freehold, Eatontown, Asbury Park, Wall, Red Bank, Ocean County, and the greater Monmouth County region. We believe with topics like rideshare, it is important to stay apprised of newly passed legislation and continue to adjust our strategies accordingly.
Call our office today to speak with a member of our legal team regarding your rideshare accident, your injuries, and your potential personal injury claim.
A Step-by-Step Guide to Handling Car Accidents
What Should I Do if I was Injured
in a Car Accident in New Jersey?
Who is Legally Liable for Rideshare Accidents in Monmouth County?
Most organizations that hire drivers such as bus companies, trucking companies, and taxi companies are considered solely liable for their employees. In other words, if a city bus is involved in an accident due to the bus operator being under the influence of alcohol, the bus company would be found at fault for the accident. This is still the case despite the fact that it was the driver's actions that directly led to the accident.
Uber and Lyft drivers are generally not legally considered employees and are therefore not subject to the same considerations within personal injury claims. This is because rideshare drivers are contractors who operate their own personal property, on their own time, and where they choose.
Due to this legally ambiguous situation, our Monmouth County rideshare accident attorneys may choose to hold both the driver and the rideshare company responsible. Despite the drivers not being a direct employee of Uber or Lyft, they still should be covered by the companies' third party liability coverage. In the case of Uber, they carry one (1) million dollar liability coverage, one (1) million dollar uninsured/underinsured coverage, and additional collision coverage for property damage to vehicles.
Red Bank Rideshare Injury Lawyers Define Contingency Insurance
In terms of personal injury claims, rideshare accidents can be quite complex. However, the good news is that these behemoth companies do carry contingent insurance to pay for damages that their driver's auto policies do not cover. As mentioned above, Uber offers $2,000,000 in contingency insurance which can cover general liability, uninsured or underinsured drivers, and even more for additional property damage to your vehicle. But what exactly does this mean?
What this means for our clients is that our Long Branch lawyers will first work with the auto insurance company of the driver in order to recover damages. Often times, the coverage afforded by these individual auto insurance plans will not be sufficient to cover for major expenses such as medical bills, lost wages, pain and suffering, and more. When this is the case, we will turn to the rideshare's contingent insurance to pay for the remaining damages.
It is important to understand that for personal injury claims concerning rideshare accidents, insurance coverages take effect only in specific situations. For example, a personal injury claim involving a rideshare driver who has the App turned on but does not have a passenger can lead to a different legal claim than one involving a driver who is currently transporting passengers.
Contact our West Long Branch Rideshare Accident Injury Attorneys Today
At The Law Office of Chamlin, Uliano & Walsh, our legal team believes the frequency of rideshare accidents will only rise as the popularity of services like Uber and Lyft continue to grow. We take pride in handling complex cases for clients in local New Jersey communities, including West Long Branch, Ocean, Asbury Park, Red Bank, Eatontown, Wall, Ocean County, Freehold, and all of Monmouth County. You can lean on our legal team, which is led by one of only 43 of 80,000 practicing NJ attorneys to have earned the distinction of being both a Certified Civil and Certified Criminal Trial Attorney by the Supreme Court of New Jersey. Our personal injury attorneys have both the experience and the knowledge to welcome complex cases that other firms may refuse.
If you or a loved one has been injured in an accident involving an Uber, Lyft, or other rideshare services, contact our firm online or by calling our West Long Branch offices by dialing (732) 440-3950 today. A legal representative will be standing by to discuss your unique case in a free and confidential consultation.