Nursing Home Abuse and Neglect Attorneys Monmouth County, NJ
Serving Clients Across Long Branch, Ocean Wall, Freehold, Eatontown, West Long Branch, Ocean County, and Monmouth County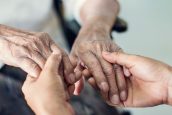 As we get older, so do our parents, grandparents, and other loved ones. While many of us do not have the resources to take care of our aging relatives personally, nursing homes and assisted living facilities offer safe, secure, and fulfilling environments for those who can no longer care for themselves. Unfortunately, such facilities do not always hold up their end of the bargain, failing to protect their tenants from abuse or neglect, including physical abuse, sexual abuse, emotional abuse, deprivation, social confinement, nutritional or hygienic neglect and more.
At The Law Office of Rosen, Chamlin, Uliano & Walsh, our personal injury attorneys take cases involving senior citizen abuse extremely seriously. We believe that our clients who have placed the lives of their loved ones in the hands of these institutions are entitled to damages when that trust has been broken. Our experienced legal team has won full and fair compensation for those injured by nursing home abuse and neglect in our local New Jersey communities including Oakhurst, Wall Township, Middletown, Red Bank, Eatontown, Asbury Park, West Long Branch, and the greater Monmouth County area.
Call our office today for a free and confidential consultation regarding you or your loved one's injury as a result of nursing home or assisted living abuse or neglect, and to find out how we can best serve you.

Key Questions
How to Choose the Right Personal Injury Attorney for You
Wall Township Nursing Home Injury Lawyers Discuss Elder Abuse and Neglect Statistics
To understand how prevalent the issue of nursing home abuse and neglect is in the United States, we will examine some shocking statistics as per the National Council on Aging and the National Center on Elder Abuse:
Approximately five (5) Million senior citizens suffer some form of abuse each year, or about one in ten Americans aged 60 or older
Older individuals who are suffering from abuse or neglect may have up to a 300 percent increase risk of premature death compared to their well-treated counterparts
Those who suffer from dementia are at a dramatically increased risk of abuse, with an estimated 88.5 percent of such victims being subject to psychological abuse
In 2014, out of 188,599 complaints filed against long term care facilities, 14,258 or about 7.6 percent of all claims were found to have genuine issues of abuse, exploitation, or gross neglect
Oakhurst Nursing Home Negligence Lawyers Define Abuse and Neglect in Nursing Homes
"Elder abuse and neglect" is a term that is used broadly, but can refer to a litany of different issues brought about by actions or inactions of caregivers which may harm their charges. Within the legal definition of abuse or neglect, our Oakhurst personal injury lawyers will attempt to prove that one of the following took place:
Physical Abuse – many senior citizens are unable to physically protect themselves and can often suffer from physical abuse involving bodily injury
Sexual Abuse – elders are often either physically or mentally unable to prevent or understand when unwanted sexual behavior is taking place such as fondling, touching, sexual intercourse, or any other sexual behavior
Financial Abuse – any actions which would take finances away from or withhold money from a senior citizen may be considered financial abuse
Malnutrition – a form of neglect, failing to provide adequate nutrition and hydration can lead to serious medical concerns for older adults
General Neglect – lack of a safe environment, clothing, proper hygiene, food, water, medical attention, and more may be found to be neglectful causing harm
How Do I Recover Financial Compensation for Nursing Home Abuse in Monmouth County?
In order to successfully recover financial compensation for nursing home or assisted living abuse or neglect, our Monmouth County attorneys will need to find that the negligent actions of another party led to the injuries or damages in question.
In a vast majority of nursing home abuse cases, we will opt to file a claim based on premises liability statutes. What this means is that the nursing home or long term care facility is responsible for providing a safe and secure environment for its tenants. This includes providing adequate security, safe conditions, and generally providing for their tenants.
There are also cases where a defective product may have caused harm to you or your loved one. This is often the case with medical equipment that is needed to provide necessary care. However, this can be legally complex as the manufacturers will likely claim user error. Our Monmouth County attorneys will get to the bottom of the case and determine whether it was a true defect, or whether the operator(s) should be held responsible.
If an individual, even one who is employed by a long term care facility, perpetuates deliberate and malicious abuse of a tenant, that may lead to a situation where the individual is also eligible to be sued in addition to his or her employer.
Contact Our West Long Branch Nursing Home Injury Attorneys Today
The personal injury lawyers of Chamlin, Uliano & Walsh understand that many of our clients are in disbelief when they hear about loved ones suffering abuse and neglect while living at a nursing home or assisted living facilities. We take pride in protecting the legal rights of our clients affected by such abuse, and seek to recover the full and fair compensation which their families need and deserve across New Jersey towns including  Oakhurst, Asbury Park, Wall Township, Eatontown, Middletown, Red Bank, West Long Branch, and all of Monmouth County.
Contact us online or over the phone by calling our West Long Branch offices at (732) 440-3950 today for a free and confidential consultation regarding nursing home abuse, neglect, or any other personal injury legal concerns.