September 21, 2023
Having an Outstanding Warrant for Your Arrest is a Serious Matter That Requires Prompt Attention and Assistance from a Qualified Defense Attorney in Monmouth and Ocean County, NJ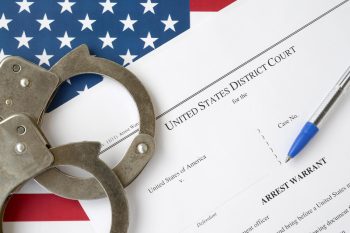 A warrant is an official document that gives a local law enforcement agency permission to complete an action: either arrest a person in the case of an arrest warrant, conduct a search of the premises in the case of a search warrant, or bring a delinquent person to court if they have failed to appear for a court date. If there is a warrant out for your arrest, it is a very serious matter. You need the skilled legal counsel and representation of a criminal defense attorney immediately. Contact Chamlin, Uliano & Walsh to discuss your situation, and read on to learn more about the implications of having a warrant for your arrest in New Jersey, and what to do.
Consequences of Having an Arrest Warrant Issued in NJ
If you have a warrant out for your arrest, one of a few things probably applies to you. Either a court has found probable cause that you committed a crime, you are behind on your child support payments, you failed to show up in court when summoned, or you violated the terms of your probation. The implications of an arrest warrant in your name are that the police can apprehend you anytime, anywhere. This could include at home, work, or public, any time of day or night. Any attempt at avoiding apprehension is a very bad idea and can have grave legal consequences that can impact you for the rest of your life.
In What Situations Is an Arrest Warrant Usually Issued?
According to New Jersey Court Rule 7:2, an arrest warrant is issued if you are formally accused of an indictable offense. There are two exceptions when it comes to filing an arrest warrant for an indictable offense. You may already be in jail under bail, in which case no arrest warrant will be filed. Alternatively, for minor or non-violent criminal offenses, you may receive a court summons in lieu of having a warrant placed for your arrest. Other reasons an arrest warrant may be issued include delinquency on child support payments or probationary violations, as well as failure to appear in court. An arrest warrant issued for those who do not show up in court is called a bench warrant.
What is the Process to Check if There is a Warrant Linked to Your Name?
If you think a warrant might be issued for your arrest, it is highly recommended that you stay ahead of the game and be on the lookout for the warrant so you can turn yourself in. Depending on your county, your local law enforcement office, sheriff's office, or your county clerk's office will have a database of open arrest warrants.
Legal Rights of Someone Facing an Active Arrest Warrant in NJ
First, it is important to understand what type of warrant officers have. If you are being served with a warrant and law enforcement officers are trying to arrest you, ensure that they have an arrest warrant and not a search warrant. Also, just because officers have a warrant for your arrest does not mean that they have the legal right to perform a search of your home or work. Also, they must read you your Miranda Rights if they are detaining you for questioning or attempting to conduct an interrogation. You have the right to remain silent and the right to a lawyer. You also have the right to be presumed innocent until proven guilty; that said, if officers produce a warrant for your arrest, do not fight against them even if you know you're innocent. They have the legal right to take you into custody.
Immediate Steps After Discovering the Existence of a Warrant with Your Name
The first thing to do if you have a warrant out for your arrest is to contact an experienced criminal defense attorney right away. They can help you resolve the warrant while protecting your rights in the legal process. Once you have spoken with a lawyer, go to your local law enforcement agency to turn yourself in. Sometimes, your lawyer will contact the police first to arrange for you to turn yourself in at an agreed upon time. While engaging the process peacefully, do not offer law enforcement agents any information, testimony, or answers besides your identifying information unless you are in the presence of your attorney.
Seek Informed Assistance from Criminal Defense Attorneys When Confronting a Warrant in Freehold or Toms River NJ
If there is a warrant out for your arrest, there's not much you can immediately do to defend yourself except turn yourself in. However, by contacting a criminal defense lawyer as soon as you find out about the warrant, you will avail yourself to quality legal counsel that will make your immediate experience more fluid and may help to get you out of jail more quickly. Having the guidance of a criminal defense attorney beforehand is critical to getting through the process of resolving the active warrant, turning yourself in to the police, potentially having a detention hearing, and positioning yourself for release from jail if and whenever possible. Then, your attorney will help you build a strong defense against your charges.
Our team at Chamlin, Uliano & Walsh is highly skilled in criminal defense in Rumson, Freehold, Red Bank, Middletown, Wall, Asbury Park, Lavallette, and throughout Monmouth County, Ocean County, and Southern New Jersey. Our lawyers are dedicated to your successful navigation of the criminal justice system from start to finish so you can get back to your life. Contact us today at  732-440-3950 or complete our contact form for an initial confidential consultation regarding the warrant out for your arrest.
---