Burn Injury Accident Attorneys Monmouth County, NJ
Serving Clients Across West Long Branch, Wall, Red Bank, Asbury Park, Freehold, Ocean, Eatontown, Ocean County, and Monmouth County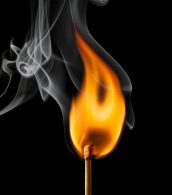 According to the American Burn Association, approximately half a million Americans received medical treatment for burn-related injuries in 2016. Much like electricity, the risk of fire is around us every day, in our kitchens, our vehicles, and fireplaces just to name a few. Burns and related injuries such as smoke inhalation can be extremely serious and potentially life-threatening. If you or a loved one has suffered burn injuries as the result of negligent or reckless actions of another party, you may be eligible for financial compensation through a personal injury claim.
At The Law Office of Chamlin, Uliano & Walsh, our personal injury attorneys have extensive experience serving those injured in fires across our local New Jersey communities including Long Branch, Wall, West Long Branch, Ocean County, Eatontown, Ocean, Freehold, Red Bank, and all of Monmouth County. We fight to protect our clients' legal rights and strive to recover the full and fair compensation they and their families need to secure their financial future.
Call our office today for a free and confidential consultation regarding your accident and burn injuries, and to find out how we can best serve your needs through a personal injury claim.

Key Questions
How to Choose the Right Personal Injury Attorney for You
Asbury Park Burn Injury Attorneys Discuss Common Causes
While many of us may think of burns as an injury involving exposure to hot flames, there are many different types of burn injuries that can cause serious harm to our skin and soft tissue. Here are some of the most common causes of burn injuries.
Fire – normal bonfires or fireplace fires can easily reach temperatures in excess of 1,000 degrees Fahrenheit. Even "cooler" fires which burn at lesser temperatures of about 500 degrees Fahrenheit are plenty hot to cause severe burns
Electrical burns – electrocution is a unique type of burn injury as it can sometimes affect tissue beneath the surface of the skin without leaving a visible mark. If you suspect you have suffered an electrical burn, seek medical attention immediately
Chemical Burns – many chemicals are corrosive and will eat away at the skin and other soft tissue, causing burns
Steam burns – anyone who has reached too close while pouring out a pot of pasta or too near a tea kettle knows that steam heat can be extremely painful
Scalding liquids – the most common type of burn suffered by young children who may accidentally turn on a tap too hot or fill up a scalding hot bath
Smoke inhalation – smoke can be equally deadly in a major fire. Smoke often contains toxic chemicals which can do serious damage to our respiratory systems
Loose clothing – especially for those who expect to be around open flames like cooks, factory workers, and even in our own homes. Loose clothing can easily catch fire if not monitored
Red Bank Burn Accident Lawyers File Personal Injury Claims
In order to successfully recover compensation for your burn accident injuries, our Red Bank personal injury lawyers will need to prove the following:
You were involved in an accident
That accident was the direct result of the negligent or reckless actions of another party
Your injuries were the direct result of the accident in question
Finding fault is the cornerstone of any strong personal injury claim. Our legal team will review the details of your case and work with your individual circumstances to show that your accident was preventable and was in fact caused by negligence or recklessness. In the case of burn injuries, accidents are often the result of failure to adhere to safety regulations. If you were injured on another party's property, that may become a premises liability claim.
In order to show that your injuries were directly tied to your accident, the best course of action is to see your doctor as soon as possible. In this way, you will not only be receiving the medical care you need but also receiving an official diagnosis of your injuries, which we can later use to prove that your injuries are eligible for financial compensation.
Contact our West Long Branch Fire Injury Attorneys Today
The Law Office of Chamlin, Uliano & Walsh has decades of experience serving clients suffering from burn injuries in New Jersey towns including West Long Branch, Ocean, Asbury Park, Ocean County, Wall, Freehold, Eatontown, Red Bank, and the greater Monmouth County area. Allow our team of personal injury attorneys to handle the details of your claim while you and your family focus on returning to your normal lives. We will fight on your behalf to recover full and fair compensation for medical expenses, lost wages, pain and suffering, rehabilitation, disfigurement, and more.
Contact us online or give us a call at our West Long Branch offices by dialing (732) 440-3950 today for a free and confidential consultation regarding your accident, your burn injuries, and your potential personal injury claim.