August 20, 2021
Learn more about the contingency fee model and how to ensure that your legal rights to a fair contingency fee are respected when seeking a lawyer for a personal injury case in Ocean and Monmouth County NJ.
There are many payment models that New Jersey attorneys use to collect payment for their services. One such model is the contingency fee, by which payment is collected only if a client's case is won. The contingency fee model is used by many attorneys who practice personal injury law.
What are contingency fees in New Jersey personal injury cases?
According to the Legal Information Institute, a branch of Cornell Law School, a contingency fee is a type of payment made to an attorney that constitutes a percentage of a settlement awarded to the client thanks to the services of the attorney. As such, a contingency fee is contingent on the client winning the case, and the amount that is paid to the attorney is contingent on how much was received in the settlement.
Once a contingency fee is decided between attorney and client, it must be clearly communicated to the client. A contingency fee agreement must be recorded in writing and signed by the client in order to be legally binding, according to the Model Rules of Professional Conduct 1.5(c).
Usually, the percentage of the settlement the attorney receives for their services ranges between 20 and 33 percent. Read on to learn more about the laws governing how much an attorney can receive.
When are contingency fees used in Freehold NJ?
Contingency fees are most often used in personal injury cases. The reason personal injury lawsuits are such a common ground for attorney services offered on a contingency basis is that it allows people who don't have extensive financial means to enjoy quality legal representation. What would be more unjust than someone injured by someone else's negligence and not able to receive compensation for medical and other expenses because they don't have a boatload of money to pay a lawyer, to begin with?
Model Rules of Professional Conduct 1.5(d) notes that, while contingency fees can be considered a proper form of payment for personal injury cases, they are not legally allowed in personal relationship matters such as divorce or in criminal defense cases.
By law, how much can a lawyer charge for a contingency fee in Holmdel NJ?
A lawyer may collect no more than specific percentages of the settlement and recovery by law. According to New Jersey Court Rule 1:21-77, attorneys are legally permitted to collect no more than
33 ⅓ percent of the first $500,000 recovered in a personal injury or other permitted case settlement.
30 percent of the second $500,000 recovered in the settlement.
25 percent of the third $500,000 recovered in the settlement.
20 percent of the fourth $500,000 recovered in the settlement.
It is important to note that the client may also have to pay some out-of-pocket fees and court fees, as these may not be covered by the attorney. These out-of-pocket fees could include filing fees, payments for expert witnesses, deposition fees, and office fees such as copies and supplies. All such information would be clearly outlined in the contract for payment that the client must sign, so it is important that they read the fine print carefully.
What are alternative payment models lawyers require in Wall NJ?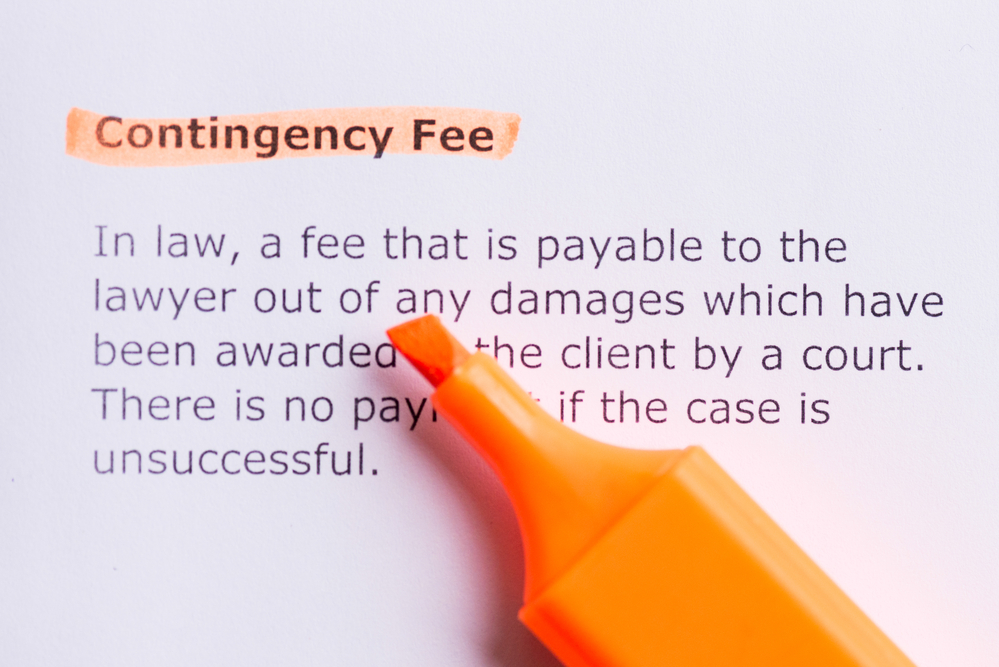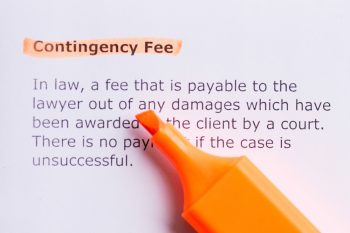 Depending on the type of case for which you require an attorney, there will be different payment models generally used. As noticed, contingency fees are most often charged by personal injury attorneys. Divorce and criminal defense attorneys, which are legally barred from using the contingency fee model due to the nature of the case, often charge a retainer fee. This is like a down payment for services, covering initial costs and lawyer services and essentially putting the lawyer on call for issues and questions regarding your case. Other lawyers charge a flat fee for services. For these types of arrangements, it is important that the client be a bit wary because if the case runs longer or requires more extensive services than expected, an attorney could either turn around and ask for more or offer poorer quality services than the client desired and deserves.
Contact our Personal Injury Attorneys for a free consultation in Long Branch NJ
If you have been in an accident due to someone else's negligence and are seeking the support of a personal injury attorney, Chamlin, Uliano & Walsh is on your side. You deserve to have quality representation and fair fees in your personal injury case, including an auto accident, motorcycle accident, slip and fall case, dog bite, or another unfortunate incident that left you with injuries.
From our local offices in West Long Branch, NJ, we zealously advocate for injured victims and their loved ones in all Monmouth and Ocean County areas, such as Rumson, Asbury Park, Freehold, Red Bank, Holmdel, Middletown, Ocean Township, Wall Township, and Howell. We will never back down in the face of powerful interests or uncompromising insurance companies, as our commitment is to stand strong for your rights and obtain the justice and financial compensation to which you are entitled.
Call our offices by calling (732) 440-3950 today for a free and confidential consultation to discuss your case and what we can do to begin the process of fighting for you.
---