Monmouth County NJ Family Law Attorneys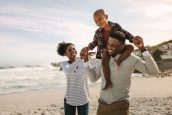 Family law encompasses very personal, far-reaching issues that touch our lives in many ways, some of which can be extremely sensitive, complex and delicate. You might be facing the prospect of ending a long marriage and disentangling years of a life together through a potentially difficult divorce. Perhaps you are already divorced and need to have your alimony or child support payments adjusted. There may be problems regarding visitation or exercising "parenting time" with children from a prior relationship. Maybe you are wondering if your retirement assets have been handled properly, dividing them according to the terms of your divorce decree.
You need to know that these matters are managed by experienced attorneys who can guide you through the process with peace of mind and confidence that your family is in the best hands. For more than 50 years, our lawyers at Chamlin, Uliano & Walsh have been protecting the interests of our family law clients. If you have questions, do not hesitate to contact our Monmouth County law firm online or call 732-440-3950.
Middletown NJ Family Lawyers
Our family law practice is led by Ronald B. Rosen, Esq. Mr. Rosen has been a state Supreme Court-certified matrimonial attorney since 1999 and has been recognized by both state and national professional organizations as an expert in this field. The family law department handles every issue surrounding every phase of divorce, prejudgment procedure and negotiations, asset and income discovery, parent alienation problems, post-divorce issues, parenting issues, prenuptial agreements, subsequent marriages, and blended families.
Every matter brought to our practice receives the benefit of decades of experience and training, with the utmost level of professionalism, respect, and sensitivity. All of our family law attorneys have served judicial clerkships in the family section of the Superior Court of New Jersey and follow a rigorous program of continuing legal education to ensure that they have the most current expertise with which to manage your case. Mr. Rosen and Laura S. Walsh, Esq., a leading attorney in the tri-county area, guide an expert staff of attorneys dedicated to navigating sensitive legal issues with zealous advocacy.
Areas covered include:
Divorce
Prenuptial agreements
Postnuptial agreements
Parenting time/visitation
Child support adjustments
Asset evaluation
Property and business evaluations
Separation and separation agreements
Interim wills pending divorce
Guardianships
Adoptions
Modifications
Consult With Our Long Branch NJ Family Law Professionals
If you have a family law matter and would like to speak with an experienced family law attorney, please contact us online or call 732-440-3950 as soon as possible for a confidential consultation.