March 27, 2023
Various Charges Can Stem From a DWI Offense in the Presence of a Child in New Jersey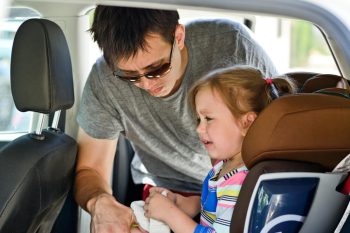 Driving While Intoxicated is a serious offense no matter what state you're in. In New Jersey, NJSA 39:4-50 is the Driving While Intoxicated law that prohibits the operation of a motor vehicle on a public roadway while under the influence of drugs and/or alcohol. Though the laws have been changed to lessen the amount of time a license may be revoked for violating this statute, operating a motor vehicle while under the influence can lead to a host of issues not immediately seen by the driver. One of these issues includes violating the statute while a minor is in the vehicle.
Who is Considered a Minor Under NJ Law Section 39:4-50.15?
New Jersey Statutes Annotated 39:4-50.15 states that for purposes of the statute, a minor is considered anyone who is 17 years of age or younger.
Legal Position when Charged with DWI while Having a Minor in the Car
For anyone charged with a Driving While Intoxicated offense, the law states that if a person who is 17 years of age or younger is a passenger in the vehicle at the time of the violation, the accused can be charged with a disorderly persons offense, which is criminal in nature. Disorderly persons offenses carry sentences of up to six months' incarceration, $1,000.00 in fines, plus the unique penalties for violating 39:4-50.15, which include five days community service, and a six-month license suspension. However, depending on the facts of the case, the police can decide to make the situation a lot worse.
What Makes DUI with a Minor Different From Other Moving Violations in New Jersey?
When a person is arrested for Driving While Intoxicated, and they meet the elements of NJSA 39:4-50.15(b), they face a disorderly persons charge. The DWI that started as a serious traffic offense now turns into a criminal violation allowing the judge to impose a custodial sentence, or incarceration. However, they are also exposed to the charge of Endangering the Welfare of a Child, which is an indictable offense (also known as a felony in other states).
As was previously stated, disorderly persons offenses carry sentences of up to six months incarceration, $1,000.00 in fines, five days community service, and a six-month license suspension. If the charges remain at this level, these are the only consequences you may face. If the charges are elevated to an indictable level, the sentence has the possibility of being much more severe. Indictable offenses are classified into degrees. Fourth degree indictable crimes are the least severe while first degree indictable offenses are the most severe. This will entirely depend upon the facts of your case and whether or not you have retained an experience attorney to help you defend your case in court or negotiate a plea on your behalf.
Understanding the Concept of Child Endangerment in DWI Cases
NJSA 2C:24-4 prohibits endangering the welfare of a child, such as driving with minor that you are legally responsible for, while you are under the influence of drugs and/or alcohol. Indictable offenses are punishable of up to numerous years in state prison, thousands of dollars in fines, and other punishments more severe than what a disorderly persons offense carries. You may be charge with endangering the welfare of a child in the third degree or in the second degree depending on the severity of the endangerment. A second-degree charge carries a custodial punishment between five and ten years, while a third-degree charge carries three to five years.
Endangering the welfare of a child is a serious offense, and the legislators who decided to write the bill did so with the intention of protecting children. Children follow the lead of the adults who are tasked of protecting them. Adults who are supposed to act as the legal guardians for children are capable of exercising their free will while children are often not. Children do not have the option of refusing a car ride with an adult who is under the influence. The severity of being charged with endangering the welfare of a child is meant to be a deterrent and a protective measure for children who cannot protect themselves from adults driving under the influence.
Will DCPP Get Involved in a DWI with a Minor Case in NJ?
Depending on the facts of your case, the Division of Child Protection and Permanency may or may not get involved. If the allegations arise to a certain level of abuse or neglect, DCPP will open up their own investigation to see if you are able to properly care for your children or if the children have to be removed either temporarily or permanently. DCPP may file for removal and remove the children from your custody and place them in the custody of the other parent. DCPP has discretion of whether or not the allegations against you constitute abuse and/or neglect, but you are entitled to defend against these accusations.
Consult our Defense Lawyers for Assistance with DWI with a Minor Charges in Freehold and Monmouth County NJ
Hiring an attorney who has experience defending against charges of driving while intoxicated with a minor, and endangering the welfare of a child is the best thing to do to put forth a successful defense. These charges carry serious penalties that extend into your family, and only an experienced criminal and DWI defense lawyer with a vast background in criminal and DUI law in New Jersey can help to ensure that the penalties are avoided or mitigated. At Chamlin, Uliano, & Walsh, our firm has over 5 decades of experience handling indictable crimes like child endangerment, as well as quasi-criminal cases for driving while intoxicated and under the influence of controlled dangerous substances in Manasquan, Belmar, Freehold, Hazlet, Red Bank, Middletown, Wall Township, Ocean Township, Colts Neck, and elsewhere in Monmouth County and South Jersey. If you have been charged with DWI with a minor child in the vehicle anywhere in Southern New Jersey, please contact us at 732-440-3950 or contact us on our website to speak with a lawyer dedicated to assisting with your case. We are pleased to answer your questions and offer insight into possible defenses that our criminal and DWI attorneys may be able to employ to contest the prosecutor's case.
---