South Jersey Grocery Store and Supermarket Injury Attorneys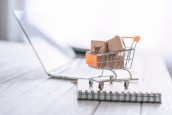 The vast majority of us visit grocery stores and supermarkets on a regular basis, whether we are picking up a single item or shopping for supplies for the whole week. Considering the frequency with which we shop for groceries, it is unlikely that we immediately associate these stores with danger; however, accidents happen in these places more often than one might imagine. With wet surfaces both inside and outside of these establishments, grocery stores and supermarkets are common sites for slip-and-falls accidents. For example, crushed produce, leaking refrigerators and freezers, and spills in the aisles can present serious hazards to patrons. In addition, parking lots and sidewalks that are inadequately plowed or shoveled during winter weather can lead to severe falls and associated injuries. Other accidents can also occur in grocery stores, as damaged shopping carts and/or safety straps leave children vulnerable to falls. Regardless of the circumstances that led to your injury, you can hold the store's owners, operators, or employees accountable if negligence was a factor.
At Chamlin, Uliano & Walsh, our personal injury team is committed to securing you the compensation you need to move forward. With damages to cover the costs of your medical care, rehabilitative treatment, lost wages, necessary future accommodations, and pain and suffering, you can begin the road to recovery. Our firm's philosophy is fundamentally different from others. We are a family business with deep roots in the community. As such, we embrace our clients as an extension of our firm family and we fight for their interests as if they are one of our own. After conducting a comprehensive investigation of your case, we will gather evidence, identify corroborating witnesses, and employ experts to build the most compelling claim on your behalf. With a no-contingency model, you don't pay us a cent until we obtain you a verdict or settlement. To discuss your potential for a claim, contact our offices in Monmouth County today at 732-440-3950 for a free consultation.
Common Causes of Grocery Store Injuries in New Jersey
Under New Jersey premises liability law, owners and operators of grocery stores and supermarkets are required to prevent, rectify, and warn patrons and visitors of potentially dangerous conditions. This level of responsibility extends both inside and outside of the premises, including bathrooms, aisles, parking lots, sidewalks, and walkways. Necessary precautions may involve cleaning up spills or crushed produce, shoveling or plowing snow, salting for ice, repairing or removing damaged shopping carts or child safety straps, using "slippery when wet" or "wet surface" signs to indicate potentially wet surfaces, and many others. Failure to perform any of these duties may leave these parties vulnerable to a lawsuit if their negligence causes an injury.
Slip-and-falls are among the most common grocery store accidents, caused by a host of factors that may lead to wet and slippery surfaces or tripping hazards. Some of the most frequent causes of wet surfaces or tripping hazards inside and outside of supermarkets include:
Leaking refrigerators or freezers
Crushed produce
Spills from containers that are leaking, cracked, or broken
Empty containers left on the floor
Produce misting machines
Recently mopped floors in aisles or bathrooms
Snow or ice on walkways, sidewalks, or in parking lots
Critical Components of a Supermarket Injury Claim
When you slip, trip, fall, or are injured in another accident in a grocery store or supermarket, your fundamental question will inevitably be "Do I have a case?" First and foremost, these claims fall within the realm of premises liability, which essentially means that property owners are held legally responsible if they fail to take reasonable care to secure the safety of their properties. "Premises" refer to a place and "liability" refers to responsibility. The issue of liability is the crux of the matter in any potential claim. In other words, you cannot simply bring a lawsuit against a property owner if you are injured on their premises. Liability applies when a dangerous condition or hazard on the premises led to your injuries. Any of the examples above constitute a dangerous condition. Evidence of said dangerous condition is essential to the efficacy of your claim. In a grocery store or supermarket, surveillance video, pictures of the accident site, corroborating witnesses, and other forms of evidence may be used to support your claim.
The second component of liability is the party's negligence in dealing with the condition. This requires you to demonstrate that the store was aware of the dangerous condition (or should have been) and failed to rectify it in a timely manner. If the store did not implement regular inspections, failed to display proper signage to denote wet or slippery surfaces, failed to shovel, plow, and/or salt walkways or parking lots during winter weather, or failed to repair damaged shopping carts, they may be held liable for damages. After an incident, you may be unaware of what to do next and wondering if you have a claim if you have no available evidence. The best thing that you can do at this point is to enlist a knowledgeable and experienced attorney. Our premises liability team will conduct an independent investigation, gather evidence, and construct a compelling claim on your behalf so that you can focus on your recovery.
Contact Monmouth County Slip and Fall Injury Attorneys Today
If you or someone you love has been injured in a grocery store or supermarket and you suspect the store's negligence may have contributed to the accident, contact our Monmouth County, New Jersey premises liability lawyers today to find out if you have grounds to pursue compensation. Our offices can be reached anytime at 732-440-3950.