March 20, 2023
Different From a Regular Auto Accident, When a Trucking Company Is Involved, Questions Arise about How To File an Injury Claim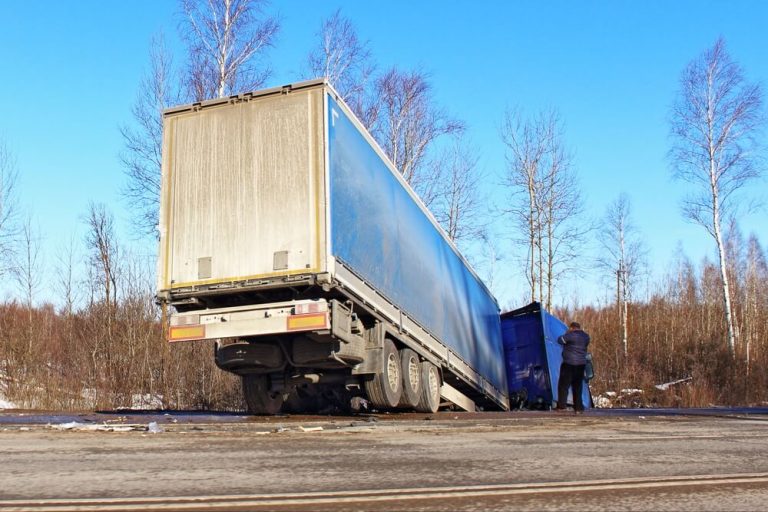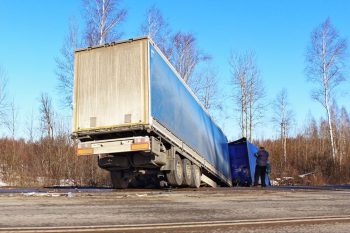 New Jersey's roads and thoroughfares can be dangerous places, with heightened vehicle numbers, stressed individuals, and technological distractions all leading to an increase in traffic accidents and deaths in recent years. Auto accidents that might otherwise be minor can cause severe damage and injury when a large commercial motor vehicle is involved. If you have been injured in an accident involving an 18-wheeler or other large truck, contact Chamlin, Uliano & Walsh today to begin the process of claiming financial damages for your medical expenses, lost wages, related ongoing treatment, long-term impacts to professional earning capacity, and pain and suffering. Our lawyers have devoted decades to serving clients in Holmdel, Little Silver, Red Bank, Asbury Park, Belmar, Freehold, Middletown, and towns in Ocean and Monmouth County in their personal injury claims, and we bring experience and insight to the special circumstances surrounding trucking company negligence-related accidents. Read on to learn more about who is held liable when you're injured due to a trucker's or trucking company's negligence.
Proving Negligence in a Truck Accident in New Jersey
In order to win a personal injury case, the injured victim must prove negligence. Negligence means that the responsible party had a reasonable responsibility to maintain the safety of other drivers, including the victim, that they did not abide by this responsibility, and that the victim was injured as a direct result. When it comes to negligence accidents involving large commercial trucks, there are generally two parties that can be held liable: the trucker or the trucking company. If a trucker is an employee of the company for which they drive, the company will most likely be held liable for an accident involving the negligence of their employee. This is because it is their duty to hire and train responsible individuals. If a driver is an independent contractor, they will be held responsible for accidents for which they are at fault. There are relatively few cases in which other parties will be held liable for trucking accidents.
Company's Duty to Avoid Truck Accidents
Trucking companies are responsible for ensuring that their employees are trained, properly supervised, and rested. If a trucking company employee causes an accident because they fall asleep at the wheel due to insufficient rest caused by unreasonable company demands, the company will be held liable for negligence. Additionally, if the company fails to maintain their vehicles or abide by loading standards, any accident caused do to machinery malfunction or overweight carriage will be considered the company's fault.
Should I File a Lawsuit Against the Truck Driver or the Company They Work For?
Ultimately, a victim in a personal injury lawsuit is suing for damages caused by their accident. Whether it comes from a company or an individual does not make a huge difference, unless a defective trucking part led to a malfunction as the cause of the accident, in which case the product manufacturer or distributor would likely be held liable under product liability law.
Trucking Company Liability for a Truck Driver's Negligence
It is a trucking company's responsibility to train and supervise their employees. As such, even if a driver's negligence and distraction while driving cause an accident that was clearly due to personal fault, the company will be held legally responsible for the individual's actions.
Proving Company Negligence in a Truck Accident Case
With an experienced attorney on your side, there are many ways to prove company negligence. Through review of the driver's association with the company, police reports, truck damage reports, and extensive investigation of the company's practices, a skillful personal injury lawyer will determine from multiple angles the cause of the accident and whether negligence on the part of the trucking company played a minor or major part.
The Federal Motor Carrier Safety Administration and Its Role
The Federal Motor Carrier Safety Administration (FMCSA) is a federal government agency that regulates commercial motor vehicles including those operated by trucking omaníes. They also regulate those driving with a commercial driver's license. The FMCSA is responsible for ensuring that commercial vehicles and their drivers abide by safety regulations in service of keeping the public safe.
Contact our Southern New Jersey Personal Injury Team to Prepare Your Claim Against a Trucking Company for Negligence
Our team of truck accident attorneys at Chamlin, Uliano & Walsh is dedicated to helping you recover full damages for your injuries by determining all of the parties who were negligent in the cause, be they the trucker, trucking company, shipper of the cargo, or truck manufacturer. Our meticulous approach to personal injury and product liability law ensures that our clients in Long Branch, Colts Neck, Rumson, Wall, Lavallette, and towns throughout Southern New Jersey can rejuvenate from a mental and physical standpoint while we handle the legal hurdles that stand in the way of their just compensation. Contact us today at 732-440-3950 for a free consultation to discuss your truck crash and how we can assist with pursuing a monetary award from those responsible.
---