August 18, 2018
Long Branch Drug Bust Results in $32K and 1Lb. Cocaine Seized…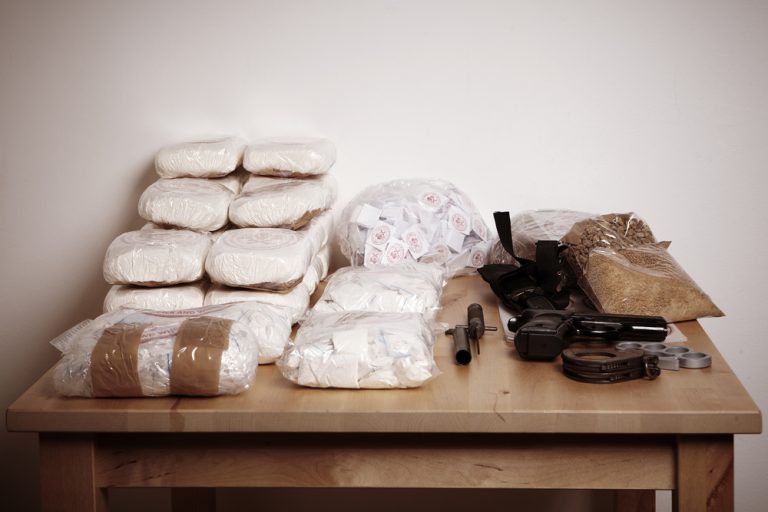 After conducting searches at two residents in Long Branch police located and seized 1.1 pounds of cocaine, $32,000 in cash as well as a .22 caliber handgun. Charges have been filed with possibly more to come, according to Monmouth County Prosecutor Christopher Gramiccioni, perhaps ranging from drug charges and weapons offenses with Intent to Distribute. In many similar searches, seizures, and arrests the accused can find themselves facing many different charges depending on the presence of illegal or stolen property, drugs, paraphernalia, or drug distribution materials at the scene or locations law enforcement is deployed.
When individuals are charged with any crime, whether it involves drug possession, shoplifting, aggravated assault, or other serious allegations, their criminal record, their future, and their freedom may be at stake. Facing prosecution exposes one to a host of serious penalties, including hefty fines and imprisonment depending on the circumstances of your specific case.  The decisions an individual makes during such a trying and a difficult episode of their lives, can and will critically impact the outcome of the case and in many circumstances the individual's freedom. If you have been charged with crimes such as drug distribution, leader of a drug trafficking ring, or a number of charges related to weapons offenses. It is advisable that you consult with an experienced Monmouth County attorney in a timely manner. 
The attorneys at Chamlin, Uliano & Walsh regularly appear on behalf of clients confronting drug and/or weapons-related charges in Long Branch, Red Bank, Deal, Ocean and towns across Ocean and Monmouth County. Charles J. Uliano, the Partner who leads the Criminal Division, is one of an extremely small fraction of attorneys in the State of New Jersey to hold dual certification as both a Certified Civil and Certified Criminal Trial attorney. These Certifications are not given out, however, they are earned through additional training, legal education, amount of trials and litigation the attorney participates in, etc. The wealth of knowledge and experience Charles and his Team bring to the table, represent a great option to have on your side when such critical decisions need to be made and those decisions can and will affect your life in many ways. Call us or send us a note today for a consultation.
Cocaine Possession, Distribution, and Weapon Lawyers Monmouth County NJ
In Long Branch, NJ, a city in Monmouth County, Broadway resident Giddel Gonzalez Estrada, 36, was taken into custody inside a Morris Avenue garage. According to the statement from the Prosecutor's Office, Estrada is facing a myriad of charges including first degree cocaine possession with intent to distribute is that the amount confiscated was more than 5 ounces; second degree possession of a weapon while in the course of committing an illegal drug offense; 42 counts of combined third-degree charges, which include cocaine possession, cocaine distribution, possession of illegal drugs with intent to distribute, possession of illegal drugs within one thousand feet of a school zone.
Detectives from the Monmouth County Prosecutor's Office Gang and Criminal Enterprise Unit, as well as its Narcotics Strike Force, executed warrants at two Long Branch residents, an apartment at 494 Broadway and another at 407 Morris Ave.
At the two locations three vehicles, about $32,000 in cash, about 500 grams of cocaine with a street value of about $50,000, a small amount of marijuana and a .22 caliber handgun were seized. In addition, significant amounts of packaging, weighing materials and various paraphernalia used in the sale and distribution of illegal narcotics were also confiscated.
Should he be convicted of first-degree cocaine possession with intent to distribute, Estrada could face up to 20 years. Should he be convicted of the second-degree charges, he could face a sentence of five to ten years in prison on each count. A conviction of any of the third-degree offense, Estrada could face a sentence of three to five years in prison.
Red Bank Weapons and Drug Distribution Defense Lawyers
Often times there may be confusion between possession of cocaine and possession with the intent of distribution.  They can be very different in circumstances as well as penalties.
Possession of a controlled substance can include drugs you have physically on your person or drugs that are in your direct control. Meaning that if the police find drugs in your hands, pockets, backpack or even your home or your car, you could be charged for possession of an illegal substance.
For a New Jersey court to charge you with intent to distribute a controlled substance, then the prosecution has to be able to prove that an intent to distribute narcotics existed when you were arrested. Though it is not possible to prove what your thoughts were at the time, circumstances may provide enough evidence for a jury to pass down a conviction: for example, if the amount of drugs in your possession were too much for personal use or there was paraphernalia present such as packing supplies present.
Penalties can vary greatly depending on the type of drug, quantity as well as prior criminal history.
Contact Our Monmouth County Drug Crime Arrest Attorneys Today
At Chamlin, Uliano & Walsh we have built a solid reputation for fiercely representing our clients in communities such as Long Branch, Red Bank, Freehold, Wall, Asbury Park, Middletown, Howell and all over Monmouth County.  Our founding partner Charles J. Uliano leads the criminal division of the firm and is ready to be a zealous advocate for you as you navigate a very critical time in your life.
For additional information as to how our Monmouth County defense attorneys can assist you or someone you love in combating the State's case against drug charges, weapons offenses, distribution charges and any other criminal offense, contact us via a simple email form or give us a call at the West Long Branch, New Jersey office at 732-440-3950.
---